About Alliance Endodontics
Thank you for selecting us as your personal endodontic care team! We are dedicated to meeting your dental needs while creating a positive experience and we strive to make your relationship with us a pleasant and rewarding one.
You may find yourself asking: What is an Endodontist? Endodontics as a specialty is perhaps best known for root canal therapy treatment. All dentists, including your general dentist, received training in endodontic treatment in dental school. General dentists can perform endodontic treatment along with other dental procedures, but they often refer patients needing root canal therapy to an Endodontist.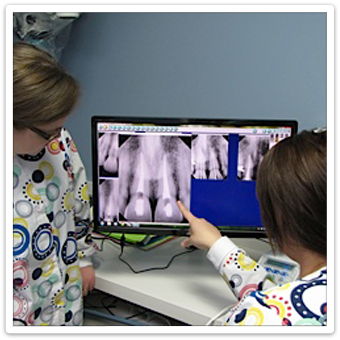 Endodontists are dentists with special training in endodontic procedures. They limit their services to endodontics because they are specialists. An Endodontist performs routine as well as difficult and very complex endodontic procedures, including endodontic surgery. Endodontist are also experienced at finding the cause of oral and facial pain that has been difficult to diagnose.
Our investment in advanced equipment means a long-term investment in your future. State-of-the-art technology invites informed decision-making and enables patients wise choices concerning their oral health. The development of modern techniques has also greatly reduced the discomfort associated with root canal therapy.
Recommendations for treatment are explained at a consultation time set aside specifically for you. During this time our staff will conduct a thorough evaluation, including medical history review, oral examination, radiographs and a series of tests. We will ensure the best treatment options. Our time invested in patient education enables us to render the best possible outcome for your dental treatment.
Quality dental care and patient comfort are our primary goals. Thank you for giving us the opportunity to pursue these goals with you. We look forward to seeing you at your scheduled appointment.